Scuba Diving - Costa Brava Spain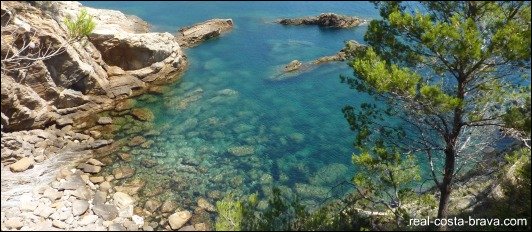 scuba diving Costa Brava

The Costa Brava (in particular the beautiful Medes Islands and the Cap de Creus National Park) is one of the best diving destinations in the Mediterranean.
BUT is the Mediterranean really that great a scuba diving destination?
The terrain of this rugged coastline - plunging cliffs, islets and submerged hills has led a few ships to a tragic end…sad for the ship but great for diving.
Where are the shipwrecks on the Costa Brava?
There are also caves, tunnels and sheltered coves to explore!
An added bonus is that diving on the Costa Brava is actually relatively inexpensive…and a lot closer than many other dive destinations in the world (assuming you live in Europe of course).
We have dived the Costa Brava dive sites ourselves many times and whilst it may not be the Great Barrier Reef or the Red Sea it is certainly a very exciting dive destination busy with wonderful marine life and full of challenges to the experienced diver as well as the novice.
Snorkelling - Costa Brava
---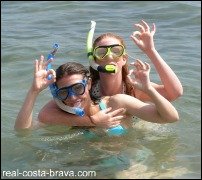 The entire coast, particularly the smaller beaches and coves make for great snorkelling…
...as you can easily swim round the rocky headlands. Our particular
favourite snorkelling spots
are
Begur's coves (particularly Aiguafreda, Sa Tuna and Platja Fonda)
,
Tamariu
,
Llafranc
and
Calella de Palafrugell
.
Diving Costa Brava: What's Down There?
---
red coral
multicoloured gorgonians
nudibranches
sponges
sea grass (it might not sound exciting, but it is a very important breeding ground for many marine species)
starfish
fan mussels
groupers (some are over 25 years old and BIG)
bream
wrasse
sea bass
red mullets
moray eels
conger eels
octopus
tuna
barracudas
eagle rays
sun fish
For information about the sharks, turtles, dolphins and seals you might (just might) see...please read our Diving Mediterranean page.
Diving Costa Brava: How Warm Is It?
---
Check out the
sea water temperature
- it's actually pretty warm down there in the summer, but you'll definitely need a wetsuit for diving.
With temperatures ranging from 12.4 degrees celsius in the winter to 22.8 degrees celsius in the summer, you can dive all year round on the Costa Brava.



Diving Costa Brava: Video
---
Take a look at this video of scuba diving the
Medes Islands
. It gives you a good taster of what you are likely to see down there...
Diving Costa Brava: Scuba Diving Schools/Centres
---
There are many diving centres spread out along the 200 km of the Costa Brava coastline, where you can take courses from beginner right up to instructor level, hire equipment and fill your air tanks. See
Dive Schools
for further details.
Diving Costa Brava: Be Safe!
---
Scuba Diving Insurance is compulsory in Spain.
Many of the dive centres will offer you insurance when you book up with them. But, if diving on your own please make sure your travel insurance covers diving or that you have taken out a separate diving insurance policy.
Here are some companies that offer scuba diving insurance policies:
Ok…enough with the lecture.
Diving Costa Brava - Dive Sites:
---
Take a look at the Costa Brava dive sites...
---
Visitor Dive Queries...
Click below to see contributions from other visitors to this page...

Click here to write your own&nbsp







---
Return from Scuba Diving Costa Brava to Activities Costa Brava