Costa Brava Spain Beaches
Explore L'Estartit's
Beautiful Beach and Hidden Coves
The beach of L'Estartit forms a 5 km golden sand crescent with Pals beach, that it meets roughly half way, at the mouth of the River Ter. Beyond Pals beach lies the first of Begur's beaches, Platja del Raco, at the foot of the Begur headland.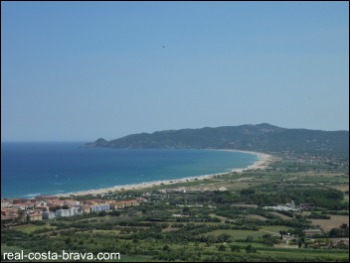 The beach of L'Estartit was awarded a Blue Flag in 2007, 2008 and 2009. It wasn't awarded one in 2010, but we are unaware of the reasons for this.
L'Estartit is also one of the best spots for scuba diving on the Costa Brava (in fact, in all the Mediterranean).
Spain beaches...L'Estartit - PLATJA GRAN
---
The end of the beach that starts in the town of L'Estartit (Platja Gran) offers all the usual beach amenities such as pedalos, kayaks, sunbeds and beach bars. The shops and restaurants are also nearby.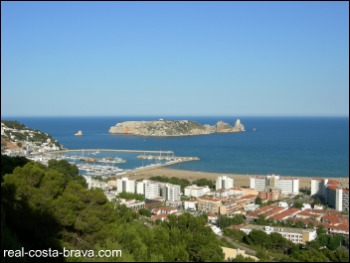 There is also a car park right behind the beach, which makes it really convenient if you have kids and all the paraphernalia that goes with them. There are also life guards and first aid facilities at this end of L'Estartit beach.
It can get quite busy here at the height of summer, but just walk a relatively short distance along the beach towards the River Ter and you will often have it all to yourself.
Spain beaches...L'Estartit - PLATJA DE GRIELLS
---
Platja de Griells is the next part of L'Estartit beach. It lies in front of the Els Griells housing estate (which conjures up a hideous Benidorm like image...but it is actually very small and inoffensive).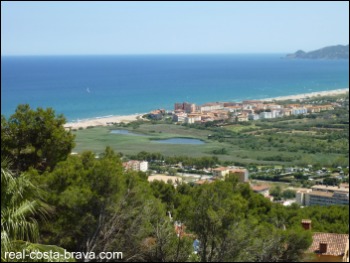 If you are looking for watersports (other than scuba diving and sailing, which are available from L'Estartit town), this is your beach. From here you can kitesurf, windsurf and kayak (the River Ter also makes for great kayaking).
It is also quite quiet on this part of the beach, and right next to the housing estate is a small wetlands area with a bird hide. But…
Spain beaches...L'Estartit - PLATJA DE LA PLETERA
---
If you want real peace and quiet, go a bit further along L'Estartit beach, towards the river, and you come to Platja de la Pletera.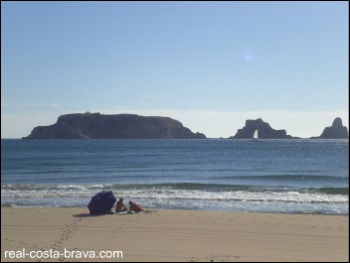 This part of the beach, near the River Ter, is backed by the low sand dunes of the Ter Vell Natural Reserve and the plain of the Baix Emporda. It has a really wild feel to it.
There are conservation methods in place to protect the sand dunes (and the other native flora and fauna) that run along the whole of the Platja de Pals-Estartit beach (the


+1 Real-Costa-Brava
Page
Site
Amazing Girona Offer!
Stay in a hotel in Girona for just €10. Enjoy a meal in Girona for just €10. And more special offers...
Our Sponsors
---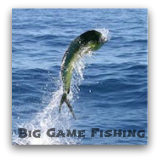 Fishing In Spain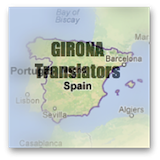 Girona Translators
Check Out The Other
Costa Brava Beaches...
---
Cadaques

Roses

Empuriabrava

Sant Pere Pescador

Sant Marti d'Empuries

L'Escala

L'Estartit

Pals

Begur

Tamariu

Llafranc

Calella Costa Brava

Cala El Golfet

Platja de Castell Lloret De Mar



Spain Beaches: Other Info...
---
Beach Webcam

Award Winning Spain Beaches

Scuba Diving Costa Brava

Award Winning Marinas Costa Brava Spain