Spain Beaches:
Lloret De Mar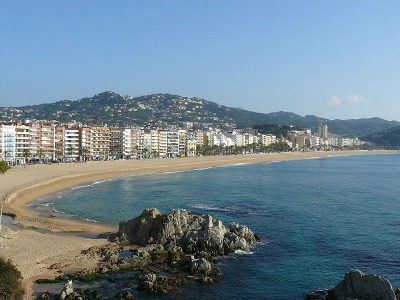 Spain Beaches Lloret De Mar
Lloret de Mar! To some that name is music to their ears...
it brings back memories of lazy days on the sand, dancing till dawn, shopping till you drop, and eating any cuisine you fancy...
to others it epitomises the sangria, fish and chips image of the Costa Brava that has existed since the 1960s and completely puts them off.
To me, it brings back some wonderful memories of a holiday with my best girlfriends when I was seventeen. I thought it was fantastic to be able to lie on a lovely sandy beach all day (well, what part of it we actually saw) and to party all night.
I've been back to Lloret De Mar since and although I now prefer quieter beaches (which there are plenty off only a kilometre or 2 away from the main beach), I can still see why it is loved by so many. And if my best girlfriends should all turn up looking for a good night out, well, I just might...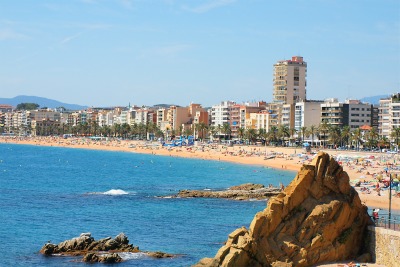 Costa Brava Lloret De Mar
You may not think it's possible that the Lloret De Mar beach could be that nice, considering the size of the town, but you'd be wrong...it has been awarded a Blue Flag every year for at least the last 5 years, it also carries the Certificate of Tourism Quality.
There is a fabulous palm tree lined promenade that goes along the whole length of the main beach at Lloret De Mar.




It's lovely to walk along here in the early evening, stopping for a drink along the way in the cafes and restaurants that line it.
However, if the Lloret de Mar beach is a bit busy for you, you don't need to go far to find some really secluded coves and unspoilt beaches.
One really lovely beach that I fell in love with at first sight is Cala de Canyelles...
Spain Beaches:

Cala de Canyelles
---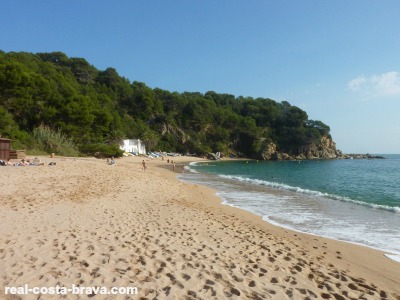 Spain Beaches Cala de Canyelles, Lloret De Mar
A world away from the busy beach of Lloret De Mar, Cala de Canyelles is a little piece of paradise.
This lovely beach is only 4 km north of Lloret. It has a small harbour at one end...which you dock at if you take a boat cruise from Lloret de Mar.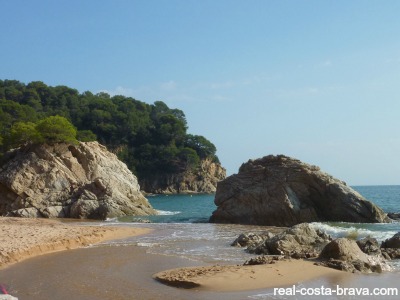 Costa Brava Beaches Cala de Canyelles, Lloret De Mar
Before you get to Cala de Canyelles you will find the peaceful coves of Els Frares, d'en Trons and Tortuga cove.
There are even more lovely coves and beaches to be had further north - Morisca cove, Porto Pi beach, Lorell beach, Carles beach and Llevador beach.
To the south of Lloret De Mar you can also visit the coves of Treumal, Santa Cristina and En Serrahima and the beach of Boadella.
Spain Beaches - Lloret De Mar Webcam
---
Want to see what Lloret De Mar beach look like right now?..take a look at the beach webcam.
Spain Beaches Video Lloret De Mar
---
Take a look at this video of Lloret De Mar...
Or even better is this stunning aerial video of Lloret de Mar beach and the surrounding beautiful coves of lloret..


Spain Beaches Lloret De Mar - General Information
---
Where to stay in Lloret De Mar?..
Hotel Lloret De Mar coming really soon
Spain Beaches Lloret De Mar - How To Get Here
---
Car:
Zoom in on Lloret De Mar on the map below to see the numbers and names of the roads. The nearest motorway is the A7/E15.
View
Costa Brava Spain
in a larger map
Bus:
You can also get to Lloret by bus from Girona Airport, Barcelona Airport (T2), Barcelona city. Please see Sarfa for details. To Get here by bus from Blanes you have to catch the L6 town bus.
Train:
The nearest train station to Lloret is Blanes (7km away). You can catch a train from Barcelona city (any Cercanias station - a station marked with the back to front white C in a red circle. Such as Sants, Passeig de Gracia and Placa de Catalunya). The train takes about 1 hour 30 minutes and they run roughly every 30 minutes from 6.30am to 10.30pm. Please see Renfe for details.
Plane:
The nearest Costa Brava airport to Lloret is Girona Airport (29 km away). Check out flights at Ryanair.
The next closest Costa Brava airport to Lloret is Barcelona Airport (76km away). Check out Easy Jet for flights.
---
Return to Costa Brava (Homepage) from Lloret De Mar