Spain Marinas:
Blue Flag Award Winning Marinas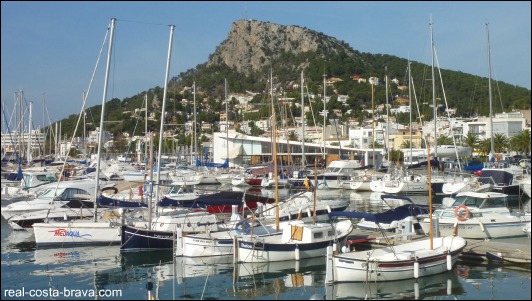 The Costa Brava has some of the best harbours and marinas in Spain.
The Blue Flag is the European Foundation for Environmental Education award in recognition of the quality of water and services that harbours/marinas and beaches (Spain beaches awarded Blue Flags) offer their users.
Spain currently holds 92 Blue Flags for its harbours/marinas.
We only mention the Blue Flags awarded to the Costa Brava harbours/marinas and to the Barcelona harbours/marinas (as they are easily reachable on a day trip from the Costa Brava).
For details of the other Spain harbours/marinas awarded Blue Flags please see Spain Marinas - Blue Flag
2012
Blue flags awarded to Spain harbours/marinas - Girona
---
| Town | Marina/Harbour |
| --- | --- |
| Llanca | Port Nautic Llanca |
| El Port de la Selva | Club Nautic El Port de la Selva |
| Roses | Port of Roses |
| L'Escala | Port of L'Escala |
| L'Estartit | Estartit Sailing Club |
| Platja d'Aro | C. N. Port d'Aro |
| Palamos | Marina Palamos |
| Blanes | Club de Vela Blanes |
2012
Blue flags awarded to Spain harbours/marinas - Barcelona
---
| Town | Beaches |
| --- | --- |
| Sant Andreu de Llaveneres | Port of El Balis |
| Mataro | Port of Mataro |
| Barcelona | Barcelona Olympic Port, Marina Port Vell |
2011
Blue flags awarded to Spain harbours/marinas - Girona
---
| Town | Marina/Harbour |
| --- | --- |
| Llanca | Port Nautic Llanca |
| El Port de la Selva | Club Nautic El Port de la Selva |
| Roses | Port of Roses |
| L'Escala | Port of L'Escala |
| L'Estartit | Estartit Sailing Club |
| Palamos | Marina Palamos |
| Blanes | Club de Vela Blanes |
2011
Blue flags awarded to Spain harbours/marinas - Barcelona
---
| Town | Beaches |
| --- | --- |
| Mataro | Port of Mataro |
| Barcelona | Barcelona Olympic Port, Marina Port Vell |
---
Return from Spain Marinas - Blue Flag to Costa Brava (homepage)