Things To Do:
Costa Brava Botanical Gardens
The Costa Brava is blessed with having two of the most beautiful botanical gardens in all the Mediterranean. 
Both of the botanical gardens are perched on cliff tops with breath taking views of the sea and the Costa Brava coastline. 
Calella de Palafrugell Botanical Garden:

Jardins de Cap Roig 
---
Cap Roig Botanical Garden
The 17 hectare Cap Roig Botanical Garden is in Calella de Palafrugell.
From 1927 to 1969 Cap Roig was a private home and garden. These days it contains over 1,000 botanical species from all over the world.
The garden is terraced all the way from the house (castle) down to the beach, offering many tantalising views of the sea, but the best view is from Mirador de la Lady.
Cap Roig is also a well known arts centre - hosting sculptures by international artists and the world famous Cap Roig Music Festival.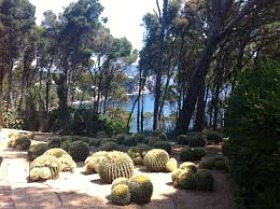 Cap Roig Botanical Garden
Cap Roig Opening times:
April to September - 10am to 9pm (during the Cap Roig music Festival in July and August the gardens close at 2pm - it takes places in the outdoor auditorium)
October to March - 10am to 6pm (closed 24th, 25th, 26th and 31st December and 1st and 6th January)
January to February - Saturday and Sunday from 10am to 6pm
Where is it:
Jardi Botanic de Cap Roig
Cami del Rus, s/n
17210 Calella de Palafrugell
Palafrugell – Mont-ras
Tel: 972 61 45 82
The website for the gardens (www.caproig.cat) no longer seems to be working, but for more details on how to get to the gardens and for information on Cap Roig Music festival click here.
Your reviews:
This is a wonderful place, the plants and views are a good as all the reivews say. I was really struck by...read more Tripadvisor reviews of Calella de Palafrugell Botanical Garden
(these photos are courtesy of Tripadvisor)
Blanes Botanical Garden:
Planol Del Jardi Botanic Marimurtra
---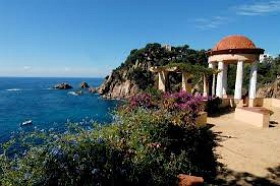 Marimurtra Botanical Garden
The 4 hectare Marimurtra Botanical Garden is in Blanes, right at the top of a very steep hill, above the port at the north end of Blanes beach (unless you are fit I wouldn't attempt the walk up from the town...catch the bus instead. You can always walk back down).
As you might have guessed, because the gardens are on top of a hill, the views are breathtaking!
Marimurtra is one of the oldest botanical gardens in Europe, established in the early 20th Century by a German botanist. It contains plants from all over the world, divided into 3 main sections (tropical, temperate and Mediterranean).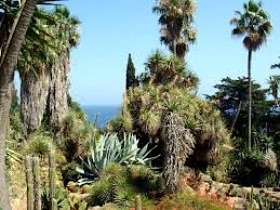 Marimurtra Botanical Garden
Marimurta Opening times:
April, May and October - 9.00am to 6.00pm
November to March - 10.00am to 5.00pm
December 25th and 26th / January 1st and 6th - closed
Where is it:
Planol Del Jardi Botanic Marimurtra
Pg. de Carles Faust, 9, Ap. de correus 112,
E-17300 Blanes
Tel: 972 330 826 
For more information visit the Blanes Botanical Garden website
Your reviews:
Myself and my 2 teenage daughters walked up to the botanical gardens and we all thought it was stunningly beautiful. It was probably the prettiest place I've ever been. The...read more Tripadvisor reviews of Blanes Botanical Garden
(these photos are courtesy of Tripadvisor)
---
Return to Things To Do from Costa Brava Botanical Gardens