Things To Do Costa Brava
L'Albera Mediterranean Tortoise Centre
Looking for things to do (other than lying on the beach) whilst on the Costa Brava, we recommend visiting a tortoise!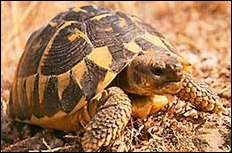 Things to To - Tortoise Centre


In the Albera range, the most easterly stretch of the Pyrenees, lives the last natural population of critically endangered Mediterranean Tortoise (Testudo hermanni hermanni) of the Iberian Peninsula.
The Albera Range was designated a Natural Park in 1986 in order to protect the last population of these lovely animals.
At the Tortoise Centre, which is managed by the Albera Friends of the Tortoise (ATA), these tortoises are bred to increase the natural population, study their biology and ecology and to educate the public about the need to protect and conserve these fabulous creatures.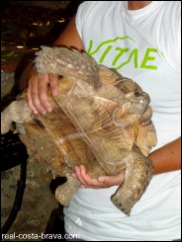 The centre has a resident population of Hermann's tortoises and other varieties of tortoises that have been donated by private owners and so have always been kept in captivity.
As a result they are not at all afraid of people and so they don't duck back into their shells when you get close.
The Hermann's tortoises breed and the new tortoises are then released into the wild.
As well as being released into the Albera range, the Mediterranean Tortoises from the centre are also being introduced into other areas of Catalonia (Cap de Creus Natural Park, Garraf Natural Park, Ebro Delta Natural Park).
We were very lucky when we visited the Tortoise Centre, that they were measuring some of the large donated adults and giving them a health check. The tortoises were so used to people that they weren't in the least bit perturbed by being manhandled.
I bent down to take a picture of one of them who was walking surprisingly fast towards me (I had no idea that tortoises could move that fast) and he walked right up to the camera and then over my foot, on his way to an exciting looking plant. It was just fantastic to get so close to such a brilliant animal.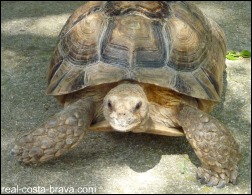 Things to To - Tortoise Centre

The tortoise centre also has a few other varieties of tortoise and terrapin in separate enclosures. But my favourite thing at the Tortoise Centre is the new hatchlings. They are kept in an incubator in the museum/information office. They are so small they don't look real.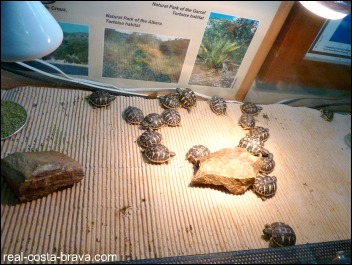 Things to To - Tortoise Centre

The centre looks like an old hacienda and is in a lovely location at the foot of the Albera Range, next to the pretty little church of Mare de Deu del Camp (accessed from the courtyard of the centre). There is also a donkey stables next door where you can go for a donkey ride or just have a stroke.
After you have visited the centre, we strongly recommend a drive into the stunning Albera Range seeing as you are so close.
Please support the Tortoise Centre to help the tortoises survive. The entrance fees go towards the maintenance of the centre and projects to conserve the Mediterranean Tortoise.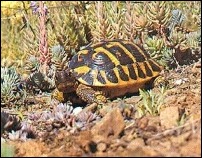 Things to To - Tortoise Centre
Practicalities
---
Address
Santuari de la Mare de Deu del Camp, 17780, Garriguella (Alt Empordà)
Tel. 972 55 22 45
Parking
There is a car park at the centre.
Facilities
There is an information centre, a small museum with a video about tortoises in Catalan, English and French, tortoise enclosures (some with exotic species) accessed via a raised boardwalk. Also, next door is a donkey stables and a small church.
Opening hours and Price
For up to date information on opening times and prices visit the Tortoise Centre website


How Do You Get Here
---
The centre is 500m from Garriguella on the road to Vilamaniscle. It is signposted from Garriguella.
Zoom in on Vilajuiga and then on Garriguella on the map below to see the numbers and names of the roads. The nearest motorway is the AP7.
If you need car hire in the Costa Brava please click on this link.
View
Costa Brava Spain
in a larger map
Bus:
You can get to Garriguella and Vilamaniscle by bus from Figueres ampurdanbus.com.
Train:
The nearest train station is Vilajuiga (approx 3km away).
Please see
+1 Real-Costa-Brava
Page
Site
If you like this Site about the Costa Brava, please let Google know by clicking the +1 button. If you like this Page, please click that +1 button, too.
(If you are not logged into your Google account (ex., gMail, Docs), a login window opens when you click on +1. Logging in registers your "vote" with Google. Thank you!)
Note: Not all browsers show the +1 button.
Amazing Girona Offer!
Stay in a hotel in Girona for just €10. Enjoy a meal in Girona for just €10. And more special offers...
Girona 10 if offering 1588 places in 27 different types of accommodation in Girona on 26th January for only 10€ per person.
You can also book a 10€ meal in more than 50 restaurants in Girona.
Many shops in Girona have also signed up to Girona 10 and have special offers and discounts.
And, in case that is not enough, many monuments, museums and concerts are free or are discounted during the weekend of the 26/27th January.
Sorry - the draw for this offer ended on 14th January, but check back with us regularly for more great offers.
Our Sponsors
---
Our Sponsorship Policy
Fishing In Spain
Girona Translators