Costa Brava Spain News Update....El Bulli
El Bulli
---
Sadly, the infamous El Bulli (the 3 Michelin Starred, number one restaurant in the world)
closed its doors
as a restaurant on 30 July 2011 (having been in operation since 1964). It will open its doors once more in 2014, not as a restaurant, but as a creativity centre...the El Bulli Foundation (a think-tank for creative cuisine and gastronomy).
But why did El Bulli close when it was the number one restaurant in the world?
Well, apparently it was operating at a loss (even though the average cost of a meal was €250, it only had a short operating season of 6 months each year). For the last 10 years El Bulli's profits were coming from the sale of El Bulli books and lectures given by the owner and head chef Ferran Adria.
Ferran Adria however, has given a different explanation for El Bulli's closure - in a restaurant there is a time for creation and a time for production, when you are in the midst of feeding people your ability to create is limited.
El Bulli will be definitely be missed...in its operating season it would serve 8,000 people, but on average it received 2 million requests!
The beautiful cove of Cala Montjoi where El Bulli is situated is still worth visiting for its
remote wild beauty
...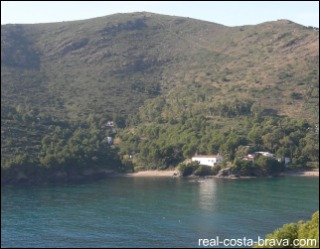 ...just bring a packed lunch from now on.
---
Return from El Bulli to Roses Coves